SD-WAN
MSTP & SDH Network
Internet BGP
DIA & ADSL
MPLS & VPLS Service
Service Description

SD-WAN is Software Defined WAN is the next generation solution to build up an enterprise intranet worldwide. It targets on the customer who expects to build up its network with flexible connectivity and lower cost, especially for widely spread sites like campuses, factories, chain stores and retailers, etc.
The SD-WAN objectives:
Zero touch activation

Fast implementation

Easy extension

Mobility

Customization on demand

Lowest cost
Service Portal highlight:
We offer a user-friendly intercommunication portal for customer to orchestrate the SD-WAN service. Via this portal the customer can easily communicate with implemented SD-Box. Multiple functions are supported: 
Health check

Device running Status and reporting

Security registration

Basic functions activation and deactivation

VAS functions activation and deactivation

Application aware,  to display the real time running applications

Routing optimization, get the optimized routing to the public SaaS or the customer defined destination

Cloud wifi, Cloud based controlled wifi network, central management, seamless roaming

Customized network topology,  network topology can be redefined by customer
As of 2019, Esun owns more than 50 PoPs in Mainland China which are deployed in 34 cities.. All these PoPs are connected by SDH links and equipped with UPS to ensure the power supply for 24 hours continuously in case of the city power outage. Based on this SDH network, Esun can support various local loop connections requirement (SDH, MSTP, EoSDH, etc) that comes from the customers.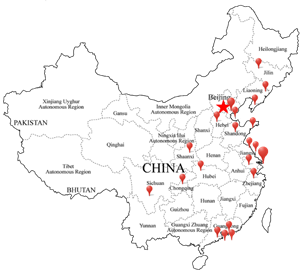 Features and benefits
01
Standard Ethernet interface

Use of widely-deployed Ethernet-based equipment
02
Flexible bandwidth upgrade

Granular bandwidth choice: 2Mbps-100Mbp
03
SDH network
Provide customer with stable connection
Comparing the normal internet, ESUN - Internet BGP, will have equal peering with other internet providers like CT/CU/CM and provide high quality Internet access for customer.
Our features:
n Fully interconnected with all China incumbents nationwide.
n Esun Public BGP AS is fully peered with CT/CU/CM in SH as well as HGC/GTT in HK, Telia in SK
n High quality internet with good communication performance among the incumbents
n Dedicate GFW protected international port supports international traffic optimization
n Customers can choose their preferred local loop providers.
n Proactive monitoring and report
n 24*7 Help Desk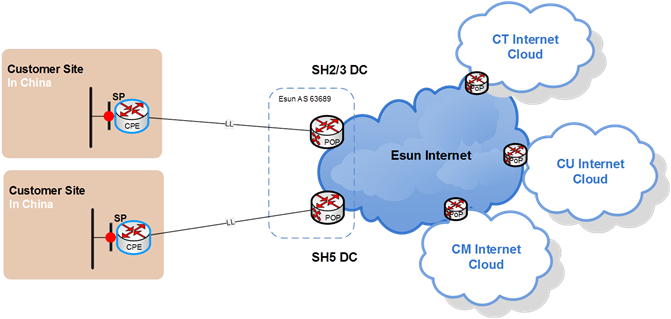 Esun supports IP Transit, the service is suitable for the customer who expects to announce its own AS and public IP addresses in China.
Our features:
Transparent transit.


Performance guaranteed among China sites and from sites inside China to sites outside China.

Proactive monitoring and reporting.

Online service portal.

24*7 help desk.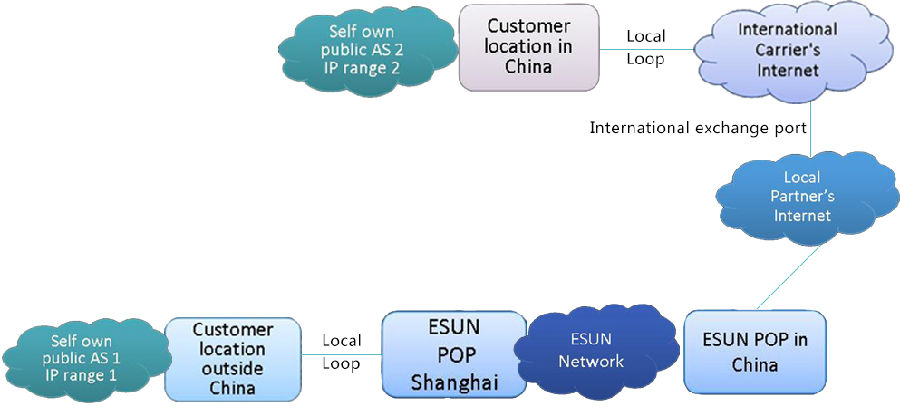 To meet various Internet access requirement, Esun is flexible to support different type of LL which are provided by local carriers.
DIA: Dedicated Internet Access

one local loop plus one fixed public IP address, extra IP is also supported




Dedicated Internet Access connect to at least two different carriers (BGP):

one local loop plus multi public IP




ADSL: Asymmetric Digital Subscriber Line

one local loop plus one dynamic public IP address




3G:

wireless plus one dynamic public or private IP address

The Hybrid MPLS solution targets on the customer with widely spread offices, e.g. chain store, retailer and car dealers, as well as the customer who expects to build up its MPLS network with flexible connectivity, cost-effective and fast implemented. The coverage is China mainland and Hong Kong.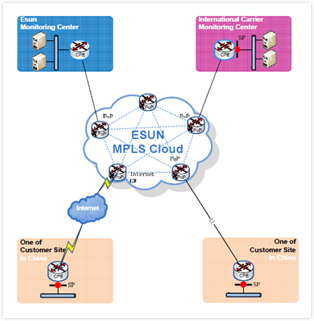 The solution includes
Proactive monitoring

24*7 Help desk

7*24*4 SLA in major cities

5*8*NBD SLA in most other cities of Mainland China.

Service portal
Features and benefits
01
Different classed of service (COS)
Voice for voice traffic, Stream for multimedia traffic, Business divided with 2 classes for critical and non-critical data, Economy for general data
02
MPLS- based core network
To link up customers different sites with a fully-redundant network Metro Ethernet, EoSDH
03
Managed CPE
24/7 monitoring and maintenance of customer-end routers
04
MPLS- based core network
DSL, Fast Ethernet and Gigabit Ethernet circuit supported
05
High-availability with customization
Dual Links, Primary link with IPsec back up
ESUN - VPLS service provides a cost effective, flexible and scalable telecommunication solution for customer. Customer can choose from different network topology (point to point, point to multipoint or fully meshed) with bandwidth ranging form 2Mbps to 100Mbps to suit their need. ESUN-VPLS service is using the most common Ethernet standard (IEEE 802.3) interface, therefore there is no need for customer to invest in new infrastructure and it enables you to link offices in an easy way with total control manner.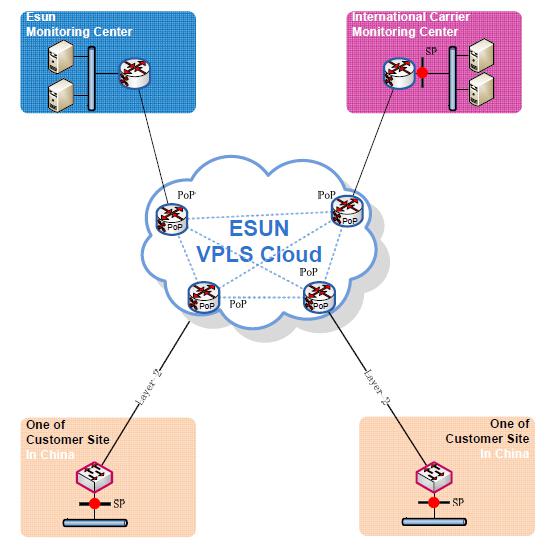 The solution includes
Proactive monitoring

24*7 Help desk

7*24*4 SLA in major cities

5*8*NBD SLA in most other cities of Mainland China.

Service portal
Features and benefits
01
Standard Ethernet interface
Use of widely-deployed Ethernet-based equipment

02
VLAN technology
Customer-defined WAN routing protocol and addressing schemes
03
Local Loop connection
Metro Ethernet, EoSDH
04
Managed CPE
24/7 monitoring and maintenance of customer-end routers

05
Flexible bandwidth upgrade
Granular bandwidth choice: 2Mbps-100Mbp, and Up to 1 Gbps on request